Post by Fallenbelle on Feb 2, 2016 3:04:12 GMT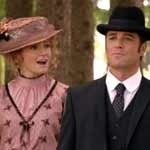 Yes, Dan of Green Gables was a major snort.....not to mention the Black Preying Mantis.......
Cavendish is gorgeous, as is most of PEI.....

I haven't seen as much of this diverse country as I'd like but I have to say that PEI took my breath away. We were based very near Cavendish and spent nearly a week exploring the island. The longest running production of Anne of Green Gables is still playing in Charlottetown.
First of all, chicka chicka bow wow, George. Entertaining a young lady, unchaperoned in your room in full view of the bed? Scandalous, Mr. Crabtree, absolutely scandalous!

Also, I take issue with the note at the end that says George was not the inspiration for Anne of Green Gables because he's not real! Hogwash!
In all seriousness though, this episode was cute, but I'm ready for some meatiness, and the sad episode is probably coming next week as the show will go on hiatus for at least a few weeks afterwards. (Per the CBC schedule).
I knew it wasn't going to be an actual black widow as they introduced her too early on as a suspect, but just once, I would love a black widow episode where the woman actually did it, and the whole episode was trying to catch her in her web of intrigue. I'm ready for a bad woman to shake people to their core, and no, Eva Pearce doesn't count as she's already a known commodity.
I had to laugh at the concern over Roland not walking yet. No, I wouldn't know about looking at child development charts and comparing a newborn to them at all.

Also, I had to laugh at the Black Preying Mantis bit, George and Julia were enjoying themselves there, and William was clearly uncomfortable. Why William? Were you just embarrassed to be discussing such things in front of George, or are you afraid of Julia killing you after or even during sex? That needs to be explored!