Post by randomkiwibirds on Nov 28, 2014 21:38:52 GMT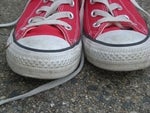 I'm thinking that ultimatly at the end of the day, Julia's going to get annoyed with the Socialist agenda and butt heads with her funders, -(kind of like Brax did with his run for office) and empowered with the idea of a woman running for office, the socialist league is going to put Margaret Haile forward their candidate. As Margaret Haile is the choice of history, after all.
And Emily dear-you have a fan...
Oh very good point - they were talking about funding! I wonder if this is why they let us have the extra preview: to show us that we got a couple of predictions right again.

Who was it that made the suggestion that funding would be the reason to seek the backing of the socialist party?
Also, noticed how the three women were clumped together plotting their course of action, while Julia was standing apart pointing out how she was a bit too "well-heeled" for the socialists.
You could be right about Julia getting annoyed by feeling controlled by the agenda. Or they could simply inform her of what she already knows: she's too rich for "good optics" in the Socialist cause.
Of course history says Margaret Haile will only get in the area of 70 votes.
I just did some reading on Socialism, and socialism was very much it's own identity up until Karl Marx wrote
The Communist Manifesto
in 1848. Marx seemed to wrap the ideas of socialism into Communism, basically combining the two terms even though they are both different things.
If you really want to get technical, Julia-as she comes from a family with money-would be seen as the 1% or bourgeois, and Emily-and I'm going to suppose here Margaret Haile & Lillan Moss - would be the 99% or the proletariat. Good observation with Julia being separate from the others of the "Furious Four". Like you said that this could be because she feels that she was a bit to "well - heeled" to be funded by the Socialists, or in a more literal sense, the bourgeois is separated from the proletariat's.
That's true. I'm seeing Julia going on to a rant to William about the "injustice" at not letting her run, because of her money-or just her in general. Remember Julia does have a rather substantial criminal record, and some of the things (like the birth-control) that she was arrested for were rather controversial. Either way I would pay good money to see that conversation/argument.
Well not only was Margaret Haile a woman, but she was a socialist as well, and they were seen as rather radical, even though at this point Russia hasn't fallen.
BTW-It was me who made the funding prediction.