Post by eus on Dec 17, 2013 18:01:45 GMT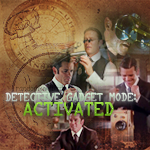 I did NOT see that coming, and I nearly jumped to the ceiling when it happened, screaming YUCK at the same time.
Did anyone else get the feeling that this was a two parter? When I look at the episode titles, it doesn't look like what they're doing, Or maybe they are going to pick up on Gillies again later in the season, like some of you have indicated. And like some of you, I just want him DONE!! Can they not come up with some other villain or complication? How about Harry, or Jasper, or anyone else for that matter? Maybe a woman who catches Murdoch's eye and causes jealousy? I like how strong Julia has become so she would definitely not take a situation like that lying down! ( or maybe she would lie down, ok I am getting a little risque here, must be the frustration I am feeling with these two). Thoughts?
I didn't think it was a 2 parter. As Julia said they have to believe it's over. Even then they will each likely be looking over their shoulder forever and will mentally never be free of Gillies (which is just as bad as anything he has done to either of them to date). I'm thinking we won't see Gillies again this season and life for them goes on, for now. I'm sure there's more drama and angst coming our way but I hope it's not to the extent of Season 6. As for another woman catching William's eye..there have been several ladies William has spent time with (when he was not courting Julia) but he could never get over his feelings for Julia so I think to do that again now would be a kind of "been there, done that" scenario. I'm hoping that we are now heading into a relatively calmer period of W & J's relationship, learning to be a couple and being free to do whatever the heck it was unmarried couples did in those days.
I think in those days the man would have to declare his intentions fairly early on. But given Julia is a widow now and she's not a young girl and they've always had an unspoken "understanding" I imagine they do not have to bow to society's expectations quite as much. I'm wondering if Julia's father comes into the picture this season. He would probably be a source of angst for W & J as I gather he does bow to society's expectations.