Post by ziggy on Feb 10, 2015 6:35:35 GMT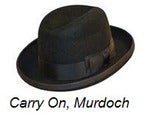 So Sally Pendrick finally got outed as the Queen of ruthless big biz money grabbers. I hope all hell breaks loose when she finally comes back again but I hope they don't kill her. Perhaps cut a deal for her and put her in some sort of Witness Protection Program where she can once again wreak havoc and give the boys a few nightmares.
I'm not concerned for William being around her. He knows who she is now and will not fall for it anymore, although it was great to see him held by the crotch the way Sally did. I had as much fun as Sally. I am more concerned for her husband. I hope she doesn't kill him with her activities. The poor man.
We've talked about this before, but William was definitely seduced figuratively if not literally by Sally. While I'd like to see her return, I agree that he won't fall for that trick again. But, I think a similar woman could come in and do something similar-William is such a gentleman that women are his Achilles heel. They can mess with his mind in a way that a man never could. I'd like to see the show explore this more.
Any other woman they bring in to play a similar role had better be good for it. I wasn't thinking of her returning to mess with William's **** , err head. She was a big wig with a lot of power which she used to gain access to unlikely places. I was thinking more in terms of causing more trouble for the boys to deal with – her husband, SH4 and the government, etc (she must be into more stuff now since she's been at large and unsupervised). I don't see William getting seduced/fooled by another woman any time soon, if ever, now that he is married and has had experience being fooled like that before.
On second thoughts though, I am not so sure I want to see any of these characters back again with the way things have been going. I don't want to see any more of them brought back to be killed or destroyed or made to look like garbage. It is becoming a trend with MM these days.