Post by snacky on Feb 4, 2014 3:08:40 GMT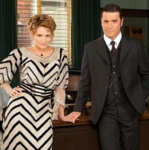 About the behaviour of Emily towards George, I have no explanations. In the previous episode she was cold and distant as if she wanted to avoid him and in the last episode, she was sad to be rejected by him... just a little while before agreeing to have dinner with Lesley. Do you have an idea?
Either it's down to bad writing and the writers can't decide if she wants George or not depending on the episode. Or her ego is bruised and she doesn't like being the one dumped. I wouldn't put it past Emily tbh. She does have an ego. I don't dislike the girl but they are writing her so she comes off as very fickle.
In the next episode we should get a clearer idea of what her feelings are as Julia and her look like they're big in the plot. They need to start writing her with consistency for us to understand her properly.
I really love how Emily Grace is written. It's certainly different, and it's one thing that prevents Murdoch Mysteries from being a cookie-cutter show.
Emily is a bit eerie - like Wednesday from the Addam's Family. She also considers herself part of intellectual, as well as social, elite. I thought Staircase to Heaven pretty much defined her character vis-a-vis an era lurching between Unimaginable Science and Dubious Theosophy. Emily's trajectory of interests are so far beyond her peers that her interactions can be quite stilted: there's hint of Asperger's Syndrome there, too, I think.
I think Emily finds George entertaining, and she's flattered by his attentions. However, he's from a different social class and doesn't really speak her language. Leslie is more in her league - quite handsome and charming.
However, I think she has been trying hard to break her class chains, and she's quite loyal to George. She will only entertain Leslie to make George jealous or express her disapproval of his actions. After all, he did just tell her off for enjoying her kiss with Leslie too much when George DID THE EXACT SAME THING in "The Filmed Adventures of Detective William Murdoch"!!! Brackenreid was right: George has to fight to maintain a relationship with Emily instead of caving before any obstacle.
Having said this, I'm not really sure George and Emily have chemistry. I sort of liked George with the penny-dreadful-reading telephone operator. However, I don't want to see Emily with Leslie, either: it's obvious he's a cad.